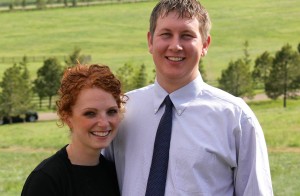 With a little luck and a lot of hard work, this Stearns County couple is making their dream happen
By Lucas Sjostrom
This all started with a dream over 10 years ago. Alise, my future wife, came home from the National 4-H Dairy Conference with a pretty good idea: we should make cheese so she could move home to Stearns County and not have to milk cows every day.
Alise's parents, Jerry and Linda Jennissen, were supportive, but of course a dream typically doesn't just happen when the idea is first blurted out. Nevertheless, Alise was determined.
In college, Alise took as many dairy food classes as she could, eventually forming her own major to create the specialized class requirements she needed. During the summers, she interned for a cheese plant in Melrose, Minn., and at the Minnesota Milk Producers' Association. Out of school, she could not find a cheese job in the Twin Cities metro, and she couldn't leave the area due to her fiancé (me) finishing school. But she found the next best thing, although we didn't realize it at the time: a job with Acosta Sales and Marketing, a grocery industry giant that helps position, purchase, and support retail sales for clients throughout the country.
As I neared graduation in May 2009, we were about to get married and had some decisions to make. Alise was in the midst of a great job but not her dream job. I had opportunities in the crop seed sales and government relations fields. I decided I liked the latter more, but that opportunity was in Vermont. I tried to help Alise realize that her cheese dream just might never happen.
Then we got to the tiny town of Brattleboro, Vermont, where my new job was located. Only then did we learn that it was home to one of the country's pre-eminent Cheddar makers, Grafton Village Cheese.
We also found that the state had an established, 20-year old artisan and farmstead cheese industry. Alise took a retail job with the Cheddar maker and eventually became part of the marketing team. But every free weekend we took "vacation" throughout Vermont and New England to learn from another cheese plant or milk bottler. Alise's parents came on one of these weekend vacations, and I think that's when it clicked: a small farm like us just might make it if we do well in the artisan cheese world.
After two years, I was offered a job with a dairy farm magazine, and we moved to Wisconsin. But even though we were in Wisconsin, we weren't in the cheese hotbeds near Green Bay or Monroe, so it was tough for Alise to create a position. Instead, Alise worked to create a job on the exact farm, Crave Brothers Farmstead Cheese, near Madison, where she first fell in love with her idea.
While in Wisconsin, we continued our learning "vacations," and whenever we returned home to Minnesota, we worked with Alise's parents and our farm business management advisor from the Minnesota State Colleges and Universities system to build a business plan.
We moved home for good in November 2012. Six months later, Redhead Creamery was becoming a reality as we fought through the process of permits, bids, and other regulations, figuring out how to build one of the first on-farm cow cheese plants in Minnesota. Unlike Wisconsin or Vermont, Minnesota doesn't have the infrastructure to support artisanal cheese making—yet. We hope to be catalysts to help others make the move, too.
Next came the tricky part, money. Our bank was supportive due to a great relationship with Alise's parents, but this was not a new freestall dairy barn. To prove to ourselves and others that we had customers, to generate some interest in our project, and to gain vital startup capital, we decided to launch a crowd-funding campaign.
We chose Kickstarter.com, which allows project creators to trade rewards—in our case, cheese, cow-naming rights, or a day making cheese—for cash to support the project. We had no clue if we would reach our goal of $35,000, but we marketed heavily over the Internet and through press releases during the second-ever Minnesota Cheese Festival. In the end, including offline donations, we raised $42,000.
That represents less than 10% of our final capital cost, and the tax man was nice enough to take a big chunk of it. But we gained 500 customers before we even put a shovel in the ground, and we have lifelong project partners.
To further help our financing situation, as Alise and I came in with nothing, we applied for and received a six-figure Value-Added Grant from the state of Minnesota. That grant gave us a moral and financial boost when we thought the final bill for our project was unattainable.
When we open, we plan to have fresh cheese curds, Brie (aged two weeks) and farmhouse Cheddar (aged six months). Down the road we may partner with our local distillery in Osakis to make a bourbon-washed cheese. In the cheese world, you compete for ribbons, similar to what we do with registered dairy cattle. Like farmers want prize-winning cattle genetics, buyers at food cooperatives, high-end retail stores, and farmers' markets want the best cheese available.
In addition to cheese—and maybe ice cream and other dairy products in the future—we want to provide experiences for our customers. We'll offer farm tours, cheese-making classes (utilizing our local liquor stores and wineries), and possibly some teambuilding training. As farmers, it's hard at first to realize the value we're providing when giving a simple tour of our farm. We think of it as sharing our story. But after visiting 40 cheese plants ourselves, it's hard not to get excited about possibly inspiring someone to live out their dream. We can't wait to have school classes, civic groups, and other farmers come to see how we do things.
By the way, the name was a no-brainer. We call our cheese plant Redhead Creamery because my wife and her three sisters all have red hair.
We're no "rural success story" yet, as minor delays have kept us from opening our doors. But, when we get going, we can't wait to connect the public to our farm and their food. We think the artisan food industry will continue to grow at a rapid pace. It isn't for everyone, but we've found that a lot of work and a little luck will help you find the resources possible to make your dream a reality.