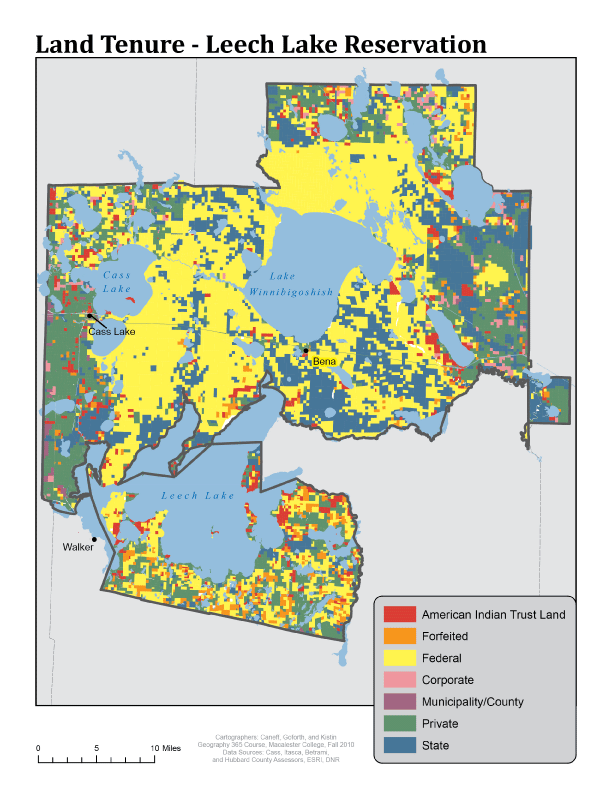 Two governments work together to overcome more than a century of distrust
by Larry Schumacher
Located in and around the Chippewa National Forest, the Leech Lake Indian Reservation is home to more than 10,000 people, making it the largest reservation in the state. But to many Minnesotans, even those who live nearby, Leech Lake and its residents have been a mystery.
Though cultural exchanges between the majority European and minority Indigenous populations have historically been limited, they share the same lakes and woods that have sustained the area's inhabitants for hundreds of years.
Unfortunately, the poor relationship and historical legacy of treaties that stripped Native Americans of their rights and lands created a climate of fear when it comes to managing land on and around the reservations.
"When you fear the unknown, [when] you're looking at another government and you don't know what their goals are, you create these assumptions that you'll never be able to get along," said Levi Brown, environmental land director for the Leech Lake Band of Ojibwe.
For years, when the Leech Lake band attempted to enroll land owned by the tribe into a federal land trust to manage it more effectively, neighboring counties viewed the applications primarily through the lens of lost tax revenue and objected to Congress, the only governmental body that holds any authority over Native American governments.
But in the last two years, Leech Lake tribal officials and their counterparts in neighboring Cass County have attempted to forge a new relationship, beginning with greater understanding around tribal land ownership and tenure.
"It took getting over the question of who's more important or who has more authority. It doesn't really matter, ultimately," said Bob Yochum, Cass County administrator. "We're living on the same land together as neighbors. We have to learn how to manage it together."
In the history of Indian land tenure, very little effort has been made to come to such respect and understanding. The 1887 General Allotment Act, also known as the Dawes Act, aimed to assimilate American Indian peoples into European-American culture and was responsible for the loss of nearly two-thirds of the total base of Indian-held land. The Dawes Act opened up more than 90 million acres of Indian land to development for white settlers or appropriation by the federal government. The rest was portioned off to individual Indians, whose land was then divided among their descendants.
A hundred years later, tribes who have seen their income grow from gaming revenues and other means have sought to reacquire some of that land. A class-action lawsuit filed by Native Americans against the United States government resulted in a $3.4 billion settlement in 2009, providing additional money to repurchase land lost as a result of the Dawes Act and return it to communal tribal ownership.
That push to reacquire lost land hasn't always sat well with neighboring counties and other local governments, because the land enrolled in federal trust is removed from property tax rolls, said Cris Stainbrook, president of the Indian Land Tenure Foundation, a Little Canada-based nonprofit that assists Native American tribes around the country with land tenure issues.
Historic treaties between the United States government and the Indian nations guaranteed their right to determine their own forms of government, define citizenship, make and enforce laws, collect taxes, and regulate their own lands and resources. Still, questions of jurisdictional authority arise from time to time, and American Indian sovereignty has often come under legal challenge from federal, state, and local governments.
"Tribal management of historically Indian lands has several advantages for everybody, besides being right and fair," Stainbrook said. "But not every county has come to the realization that there's a benefit to be had, so these scraps will continue."
A history of loss
Many of Minnesota's Indian tribes saw their land portioned off in 1889 under the Nelson Act. The intention was to relocate all the state's Ojibwe (Anishinaabe) people to the White Earth reservation, reducing the amount of land under Indian control and making what was left over available for sale to European settlers.
"Tribes had very little land left in a lot of areas," Stainbrook said. "Lands opened up for sale to timber, railways, mining, and homesteading that had been under Indian control for generations."
The land that was retained by the tribes was divided up into individual ownership, in hopes the Indians would become farmers and assimilate into American society, he said.
"But people would get hungry, and if land is the only thing you've got that's worth anything, you end up selling it to feed your family," Stainbrook said.
Many tribal lands not sold became "fractionated" over time, meaning that the property was divided among the owner's descendents. It was further diluted as it passed down to their heirs.
In other areas, Indian land became "checkerboarded," as non-Indian owners, including the federal and state government, acquired non-contiguous land on Indian reservations. This patchwork of ownership made it impossible to develop or protect the larger area for the good of the tribe, Stainbrook said.
In 1934, Congress passed the Indian Reorganization Act, reversing the Dawes Act's push to eliminate the reservations and reinstituting limited self-government by the tribes. It also created the process by which the U.S. government could acquire former Indian land that was no longer under Indian control and "take it into trust, removing the land from state jurisdiction and from local tax rolls.
The U.S. Congress must approve every enrollment of land into the federal trust. While imperfect, Stainbrook said, the process of enrolling land is the only way Indian tribes have to reclaim land that used to belong to them and govern it as a group.
"[The federal trust] is based on an assumption of the incompetence of Indian people to manage their own lands. In the best of all possible worlds, it would be back in tribal lands status."
But that reclaimed, limited sovereignty has prompted pushback, including multiple lawsuits, from the majority population, especially since the rise of Indian casino gaming on enrolled trust lands. Some of the revenue from casino gaming has gone into further land purchase and enrollment efforts, as tribes have sought to reacquire what they lost in previous centuries.
A new partnership
That's true on the Leech Lake reservation, where the tribe has petitioned Congress to enroll hundreds of parcels within and near the reservation boundaries, Brown said.
"We haven't been as active in the last ten years or so as we were before," he said. "But the ultimate goal is still the same—to consolidate the land base of the reservation."
They have a long way to go. Of the roughly 800,000 acres within the reservation boundaries, half are state forest or other state land, and another 230,000 acres are water or wetlands, he said. The tribe holds only about 30,000 acres, a little less than 4 percent. Nearly half of those acres are held by individual band members—many of whom live far from the reservation, Brown said. The top priority is reacquiring these lands and enrolling them in the trust.
"Until we do that, we can't do any development on them. We can't even enforce tribal ordinances on them," he said.
But historically, every time the Leech Lake band has petitioned Congress to enroll a parcel in the federal trust, the petition has been protested by the counties in which the land sits. This was the case with Cass County until about two years ago, the county's administrator, Bob Yochum, said.
"We have a lot of land in Cass County that is not taxable, and property taxes support our schools, towns, cities and counties," he said. "It's where we get about half our funding. Taking more property off the tax rolls is not popular with the [county] board."
While the protests usually don't change the final outcome, they can significantly delay tribal efforts and make the land more expensive by adding to legal costs associated with them, Stainbrook said.
"We stopped talking to the counties, stopped explaining why we were asking to enroll a property," Brown said. "That probably only furthered their suspicions."
Brown decided to start the conversation again. He sat down with Yochum to talk about land tenure, and a remarkable thing happened: they reached an agreement. While the amount of tax-exempt land in Cass County has always been a sore spot for Yochum and county commissioners because it reduces the county's property tax revenues, it was the lack of communication from the Leech Lake Band about their intentions that really bothered them, he said.
"The assumption was that the tribe was too big to talk to us," Yochum said. "They dealt with the state directly, and that felt like disrespect to us. Board members appreciated the tribe sitting down to talk with us."
Brown's proposal to give the county advance notice of petitions to enroll a parcel and an explanation of why that parcel had been chosen intrigued Yochum, and he was able to convince county board members not to protest future enrollments if the tribe would promise to be more transparent about their intentions.
 "If I'd told people a few years ago that I'd be sitting across from a county administrator, smiling and having a cup of coffee, they'd say I was crazy," Brown said.
The agreement to work with each other on land ownership issues has led to many further areas of cooperation, capped by the signing in February 2014 of a five-year memorandum of understanding on natural resource management, economic development, community development, and Ojibwe cultural preservation.
"The band is realizing we need to go out and explain what we're trying to do and be a better neighbor," Brown said. "Leech Lake sits in four counties, so we're also hoping this relationship can be reproduced."
The band would also like to make an ally of the counties when it comes to Chippewa and Superior National Forests. The band has stated publicly its interest in an increased role in their management, and perhaps even to assume ownership from the federal government, Yochum said.
"There are a lot of steps that would have to be taken first in building public confidence in how the forest would be managed," he said.
According to Brown, such a move would go a long way toward re-establishing the territorial integrity of the Leech Lake reservation.
Other tribes, other experiences
Alone among Minnesota reservations, the Red Lake Band of Chippewa escaped allotment and loss of territorial integrity.
The Red Lake Nation, situated farther north in Minnesota along the shores of the eponymous lake, negotiated its own sovereignty treaty in 1889 and is today a closed reservation.
"Basically, that means all the land is owned by the tribe, and nobody can come onto the reservation that doesn't have permission to be there from the tribe," said Chief Johnny Smith, a Red Lake tribe member who lives in Minneapolis today and works as an elder advocate with the tribe's embassy.
Still, nearly 2.9 million acres of the tribe's original land holding of more than 3.2 million acres was ceded to the U.S. government in return for the right to hold the land in common trust. That has made it easier for Red Lake to decide what to do with the land that remains and to preserve traditional culture there, Smith said.
"They value the old ways more up there," he said. "The language is still alive, and the religion. They're fighting hard to keep their sovereignty."
Some tribal money from gaming goes into re-acquiring land for enrollment, Smith said, but the reservation is so remote that its casino can't compete with suburban tribes such as the Shakopee Mdewakanton Sioux Community near the Twin Cities. Most of the revenue goes back into health, human services, and infrastructure.
Even the Shakopee community's land trust acquisitions were not nearly as large or valuable as has been portrayed in the Twin Cities media, said Laura Smith, associate professor of geography at Macalester College.
Smith studied land holdings of tribes around Minnesota, particularly the Shakopee community and the Bois Forte Band of Chippewa in northeastern Minnesota, because "I knew that the notion that tribes were significantly adding to extensive land holdings was just wrong, and I wanted to empirically document and map recent patterns of tribal land acquisition."
She found that a comprehensive picture of tribal land ownership was nearly impossible to provide due to the multiple sources of information needed and varying degrees of willingness to cooperate. But she did find that rural tribes whose land has a lower value than suburban tribes such as the Shakopee community may be better positioned to benefit from land reacquisition and resulting economic development.
Looking to the future
The 2009 lawsuit settlement providing money to reacquire and re-enroll lost Indian land is a start, but it will only get tribes about a quarter of the way toward restoring their reservations' territorial integrity, Stainbrook said.
"There's a lot of land on reservations that's just going fallow that could be productive, to help provide food and economic production for the people," he said. "But first, the tribal governments have to be able to control it."
When that happens, and tribes are able to make progress economically, neighboring governments realize the benefits as well, in jobs created for their residents and a lessened need for welfare and other human services to treat the symptoms of poverty, Stainbrook said.
"Progress happens when an area is under economic stress and county leaders begin to recognize reservations as an economic engine," he said. "If you can come to some agreement, the whole area benefits from it."
The agreement Leech Lake and Cass County came to has benefited both sides, allowing the two to apply for and secure federal and state funds for road and bridge projects together that they might have otherwise not received individually, Yochum said.
"Any time we can go hand in hand to tell our story together, it enhances our opportunity to get resources," he said.
In rural counties across Minnesota with aging populations, one of the key sources of young workers in coming years will be the reservations, where 50 percent or more of the populations are under age 18, said Stainbrook.
"If there are activities, jobs, and a future for those kids," he said, "they'll stay on the reservation, and you'll see more population growth in and around the reservation. But it all starts with the ability to control the land. It's really the key to a better future for everybody."
— Larry Schumacher is a freelance writer and nonprofit communications specialist who has written for numerous publications, including Initiative Quarterly Magazine, NextAvenue.org, Business Central Magazine, Politics in Minnesota and the Saint Cloud Times.