While coal was once the dominant source of fuel for Minnesota's electrical grid, renewable energy in Minnesota is leading the way for a fossil-fuel-free future. 
A new study by the University of Minnesota's Energy Transition Lab highlights that the clean energy economy in Minnesota is expanding, that jobs, ratepayer savings and economic benefits are being created and that 5,000 construction jobs could be created.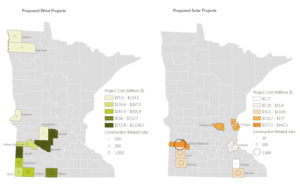 Read more about renewable energy in rural Minnesota at Phys.org here.