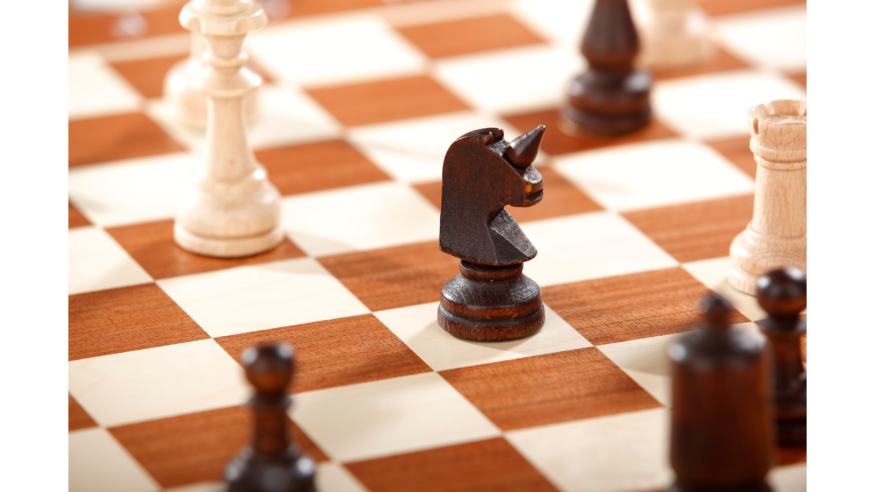 Marnie Werner, VP, Research
Two years ago last week, I sat glued to my TV watching the governor and his cabinet as they announced our first covid lockdown. I sat there wondering how this was going to play out, who would get sick, who wouldn't make it through to the other end. Sitting in Mankato, discouraged from going anywhere, I wondered when—and if—I would see my family again, especially my elderly parents. Then, too, how would a pandemic—the kind of real, live pandemic that most Americans had never seen before—affect the economy? Which businesses would go under? Would our tiny nonprofit—and my job—survive?
But underneath all this stress and fear, there was also this nagging and inappropriately excited little voice inside me whispering, "Think of all the data that's going to come out of this!" 
Don't worry, it wasn't some kind of schadenfreude, some exercise in taking pleasure in other people's misfortune. But I am a big believer in taking whatever comes our way, good or bad, and learning from it. If it was good, how can we get more of it or do more of it? If it was bad, what can we learn so we don't do that again? 
Because one thing was for certain: the pandemic was going to be one great big worldwide stress test on all our systems. 
And boy, was it ever. It stressed us along all the expected ways: Was our healthcare system even up to the challenge? What would we do about school? How many businesses would go under? How many people would end up out of work? 
But who thought it would all kick off with toilet paper? Here's the view from a Target in the Cities a week before the lockdown started in Minnesota. The Charmin was back in stock, so I thought things would be okay.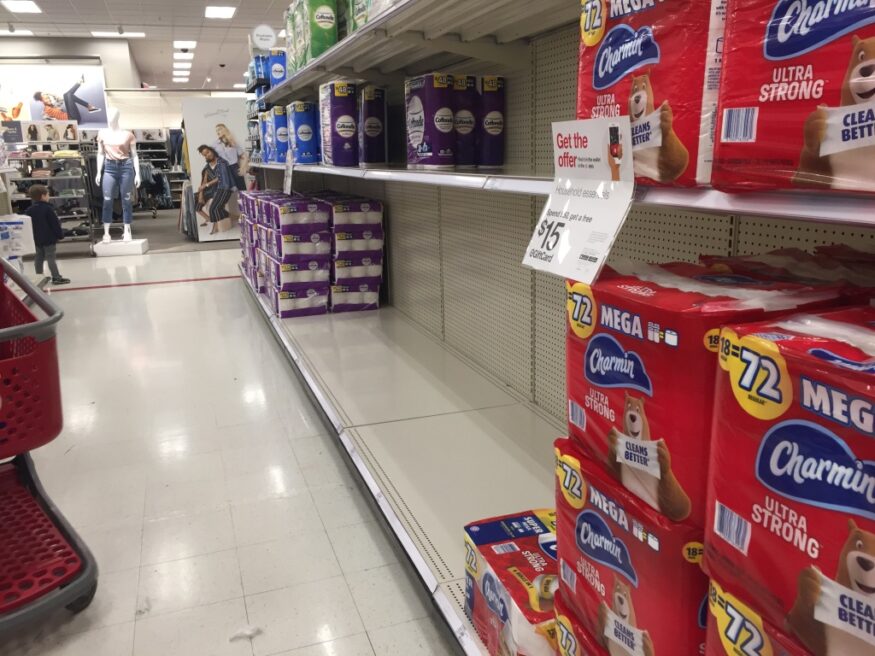 But months later…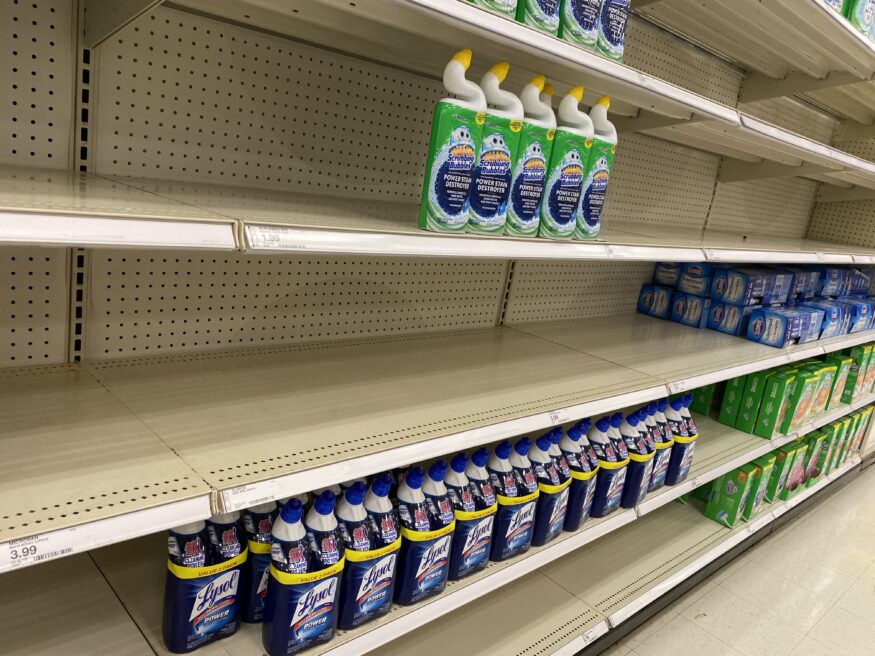 During that time we became painfully aware of all those background operations that we never think about otherwise, like water and electricity and stocked grocery store shelves and gas stations. How do we get our essentials when half the key personnel all up and down the supply chain are out sick? 
Fortunately, it didn't come to that. There may have been no mac and cheese on the shelves for quite a while (at least not the good stuff in the blue box), but it forced us to try the cheap stuff and we found it wasn't that bad.
And I for one was pretty relieved when the toilet paper rolled triumphantly back into town.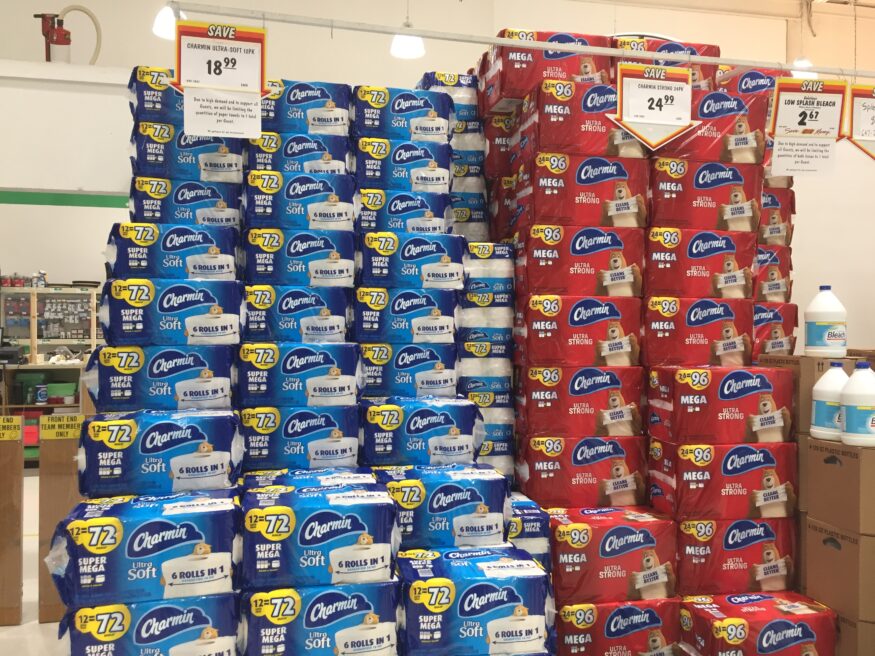 The COVID-19 pandemic was not quite as dramatic as polio or tuberculosis, the last great pandemics of the twentieth century, and it didn't exactly follow their examples. Polio and TB had been around for centuries, receding and re-merging in waves. Polio was especially hard on children, killing millions around the world and leaving millions more paralyzed for life until the vaccine came along in the 1950s. TB was an extremely contagious and terrifying disease that resulted in a particularly ugly death until scientists figured out how it spread.
When we look around now, yes, we see gaps where friends and family members used to stand, like empty spaces on a chessboard. Rural counties were hit the hardest in terms of deaths because they have the oldest populations, and COVID was not kind to the elderly; 12% of those over 80 who caught COVID died from it. In the 90-and-over group, that rate went up to around 23%.
And those who had to deal with patients directly—doctors and nurses—also bore the brunt of this pandemic. The sheer number of cases and the lack of protective equipment early on created the very high chances that they could catch it, and they did. The rate of infections among nurses was always much higher than in the general public.
But for the rest of us, we did okay. 
COVID wasn't as bad as it could have been, largely because of our modern healthcare technology. We understand so much more today about what makes diseases tick and how they spread. And since the underlying economy was sound when the pandemic began, programs like PPP loans, plus a healthy dose of our own initiative, helped keep the vast majority of employers afloat.
Some longtime businesses disappeared during the last twenty-four months, along with the jobs they provided, especially in the service sector, and especially in the Twin Cities. But rural resorts had banners years. Their biggest problems? The foreign summer workers they depended on weren't able to come over. In fact, in rural Minnesota, we started 2020 with a significant worker shortage, and those well-paying jobs in high-tech manufacturing and healthcare and education are still sitting there empty, waiting for people to fill them.
In the middle of an emergency, however, there are always those who can buy their seat on the lifeboat and then there are those who are stuck in steerage. We're fairly certain future data will show that not all groups fared equally. We already know anecdotally that low-income families, single mothers, minority groups, immigrants and refugees, the groups that are often on the short end of the economic stick, had a more difficult time keeping their lives together over the last two years. And women have not gone back to work in the same numbers that men have, especially in rural areas, because of the ongoing childcare shortage that COVID only exasperated.
And sure, inflation is going crazy right now, but it won't last forever, and I won't make any predictions on the Russian-Ukraine war, the wild card for 2022.
But for me, the main lesson in all of this has been that for those of us who kept our heads and kept the faith, we did okay. We did okay because regardless of hardships and setbacks and sickness and death and the chaos in politics and click-baiting on TV and on social media as pundits and would-be pundits grasp for viewers, here in rural Minnesota, we tended to business, used our heads, and looked after each other. Maybe not as well as we could have, but that's another lesson learned: focus on what you can control, look after your family and your neighbors and the folks right around you. They're the folks you see every day, who give you a hand when you need it, who put on impromptu fireworks shows when the city fireworks are cancelled, who you miss when they're gone. When push comes to shove, they're the people who have your back, and when the stores are empty, they will give you a roll of toilet paper and a box of mac and cheese—the good stuff even, in the blue box.