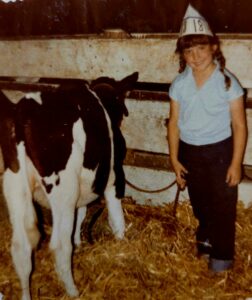 By Julie Tesch, CRPD President
The weather is hot and steamy in Minnesota, so that must mean it's county fair time. Growing up, the county fair was my favorite place on earth. It was the place where I got to see my friends, who I hadn't seen since school let out, ride some rides at the carnival, listen to music, eat different foods and show my 4-H projects. Boy, did I love the county fair! The smell of cotton candy and deep-fried food gives me nostalgic memories of beautiful summer days from long ago.
I've heard that county fairs are a thing of the past.  A nostalgic event of bygone days.  Is there a need for county fairs anymore? 
We live in a mobile society where we can see the best food, the best places on earth and can live vicariously through other people's lives on Instagram. We can even ride on midway rides through Virtual Reality.  Why do we even bother with this once-per-year gathering? It's irrelevant.
But is it?
I tend to disagree with this sentiment. I think county fairs are more relevant than ever before. We are lacking a sense of community in this tech-savvy age. What better place to support your local community than through shared experiences, food and entertainment?
County fairs have a prominent place throughout Minnesota's history and serve as a catalyst for continuing local traditions and connecting community members. The reunion culture surrounding county fairs unites both families and distant community members. Many families are eager to maintain the tradition of going to the county fair with their children, as they did with their parents before. If county fairs went away, the community would lose part of their heritage and identity.
Economic Impact
County fairs have a positive economic impact on the community. A majority of the vendors are local entrepreneurs, so being part of the county fair is prime time for advertising and selling their wares and food. Going to the fair is the perfect way to shop local.
The food vendors at county fairs continue to expand and change. As a kid, the biggest highlight was eating a Pronto pup and cheese curds. All that ooey, gooey cheese in a paper boat just screamed my name and made me happy. Actually, not much has changed. I still hear those cheese curds calling my name and a Pronto pup is a traditional must-have every year. But as our communities change, so do our food offerings. I'm hoping that as new populations move into rural Minnesota, we see more diverse food booths. Food is a great way to bring people together and learn about each other. I bet you can find some Instagram-worthy food at the county fair.
Support Local Organizations
For several community organizations, the county fair is their main fundraiser of the year. At my county fair I can enjoy a hot beef sandwich to support the American Legion, have a basket of delicious onion rings at the local fire department, then top it off with a strawberry shake from the county dairy association. All these purchases support these organizations that give back to our communities. If all I have to do is eat to support my community, then count me in!
Friendly Competition
Another highlight of the county fair is visiting the exhibit buildings, where you can see community members vie for an array of ribbons for their baking, canning, artwork, photography and more. If you received a blue ribbon, or better yet, a purple rosette, you could claim to be the best baker or woodworker in the county.  Friendly competition is good, and I don't care how old you are, seeing your work on display for the public makes you feel good, ribbon or not. And it's fun seeing what other people in the community are up to during those long, winter days in Minnesota.  This year I am entering multiple items including cookies, muffins, salsa and some flowers.  I'm not sure how I will do, but that doesn't really matter.  Being part of the local community is the goal.
Looking around the exhibit buildings in 2022, the number of entries are getting fewer and fewer. Honestly, entries should be at an all-time high because of Pinterest. On Pinterest you can find all of the best recipes, crafts, ways to do photography and thousands of other things. It should be relatively easy to find ideas to exhibit in Open Class exhibitions.  Are you up for the challenge?
Education
My best memories at the county fair came from showing my dairy animals. A lot of hard work went into preparing those animals for show, but it all paid off by being at the fair with my friends. One of my favorite memories was when my cow, Joni, unexpectedly had her calf at the fair. The barn and the fairgrounds were abuzz because of the new calf, so we had a naming contest and were able to show the public how we care for our animals. Sure, not as many youth are showing livestock for 4-H or FFA now, but the need to learn where our food, fiber & fuel comes from is at an all-time high. The disconnect around where our food comes from is a reality in both urban and rural areas. The county fair might be the only time that both kids and adults can see cows, pigs, sheep, chickens, rabbits and goats. It is a great opportunity for hands-on learning for kids and adults of all ages.
4-H has the reputation for being a farm-kid organization, and while that is the organization's heritage, 4-H is for every kid in rural, suburban and urban areas. Yes, some of my best memories were made in a cattle barn with my friends, but I've also watched kids without livestock projects have just as much fun at the county fair. They may be showing their friends and family their science exhibits in the 4-H building, participating in their Arts-In program or volunteering in the 4-H food stand. That sense of community is on display and the 4-H motto of "learning by doing" is out in full force.
So, take some time this summer to check out your local county fair and see your neighbors. Take some Instagram-worthy photos and find those next Pinterest ideas that you can bring next year as you stroll the fairgrounds. You will be contributing to the sense of community that is often lacking in this crazy world and realize that county fairs are more relevant now than ever before.