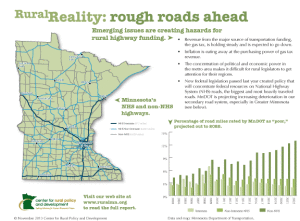 Our series of infographics bringing rural issues into focus, quickly and effectively.
ST. PETER, MINN. (Nov. 7, 2013)—Transportation officials project that over the next two decades, the funds needed just to maintain Minnesota's roads will fall at least $12 billion short. According to a new study published today by the Center for Rural Policy and Development, that shortfall will show up on increasingly deteriorating rural roads.
"There are several trends converging right now that threaten to put rural Minnesota at the end of the line when it comes to transportation needs, and that threatens people's ability to get to jobs, education and health care, and to move goods to market," said the Center's Executive Director Brad Finstad. "That's something all Minnesotans should be concerned about."
According to the CRPD report, in 2011, 28 percent of Minnesota's transportation dollars came from the state gas tax, while another 18 percent came from the federal gas tax. However, revenue from this major source has been holding steady or declining over the last decade, even with an increase in the gas tax.
"Traditionally, the gas tax has been a good proxy for how much a driver uses the road," said Marnie Werner, research director at the Center for Rural Policy and Development. "But with the expanding popularity of hybrid and fuel-efficient cars, and with federal fuel efficiency standards and alternative fuels gaining market share, the trend is toward lower gas sales, and as a result, lower gas tax revenue. Along with that, the money that is coming into the state road fund isn't enough to keep pace with the increasing cost of road maintenance and construction."
Another challenge facing rural roads is the federal government's new transportation bill passed last year. The new policy concentrates federal resources on National Highway System (NHS) roads, the biggest and most heavily traveled roads. (The CRPD study includes a map of Minnesota's NHS highways.) This policy has the potential to funnel money away from the state's secondary road system, found mostly in Greater Minnesota, contributing to its increasing deterioration, according to projections by the Minnesota Department of Transportation.
Allowing rural Minnesota's rural roads to deteriorate poses a significant economic challenge for the entire state, according to the report. Officials are searching for solutions, however, including new highway financing options posed by a 2012 gubernatorial task force.
Doing nothing, though, is not an alternative – for Greater Minnesota or the rest of the state. "We all know that to thrive, a region needs an adequate, safe transportation system," the report's conclusion states. "If the trends in consumer driving patterns continue and the new federal highway legislation proceeds as planned, the decision to do nothing is projected to lead to a progressive deterioration of Greater Minnesota's roads. This could lead to a measurable impact on Greater Minnesota's economy and on the state's economy as a whole."
Our past infographics:
Manufacturing's comeback in Greater Minnesota Sept. 2013