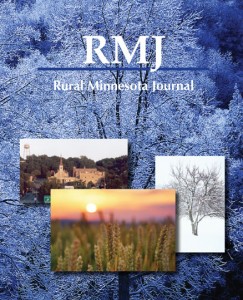 Rural Minnesota Journal 2012
Acknowledgements
Robert Franklin
It seems there's a larger and larger disconnect between the Twin Cities and 
rural Minnesota in terms the economy, politics, and just plain lifestyle. 
Former Star Tribune writer Bob Franklin points out a few reasons he's found over 
the years why rural Minnesota shouldn't be discounted.
Benjamin Winchester, University of Minnesota Extension, Center for Community Vitality, Morris
The reams of data produced by the 2010 Census reveal just who is living in 
rural Minnesota and the trends that will be continuing into the future.
Mary Quirk, K. Bull, E. Ellis & H. Thormodson, Minnesota Association for Volunteer Administration
How is the transition from the Greatest Generation to the Baby Boom to Generation X affecting volunteering in 
Greater Minnesota? Some new research shows us.
LaRhae Knatterud, Minnesota Department of Human Services
Aging Baby Boomers may be the greatest demographic shift Minnesota and the United States have ever seen. 
They also have tastes in living choices that are quite different from their parents. Will Minnesota communities 
be prepared?
Malissa J. Bahr & Valerie Shangreaux, Blandin Foundation
The role of communities leaders and leadership is growing in importance in rural places. The Blandin Foundation's 
longstanding leadership program relies on not just building leadership skills but also building the networks and 
relationships needed as communities face new challenges.
The Power of Invitation: The West Central Leadership Academy
Joyce Hoelting, Peter Caldwell & Mary Ann Hennen, University of Minnesota Extension
Many residents of rural Minnesota are looking around and asking who will fill leadership roles in their communities. 
University of Minnesota Extension researchers have found that there are many willing folks. They just need to be asked.
Susan Stehling & Wendy C. Wehr, Minnesota Council on Foundations
As who lives in our rural communities changes, so too are the way these communities support themselves. As tax dollars shrink, 
the philanthropy community is finding itself being asked to play a bigger role.
Kyle Uphoff, Minnesota Department of Employment and Economic Development
How are changing demographics affecting the economic heart of Greater Minnesota, its workforce?
Joan Ellison
A region in transition? The city of Pelican Rapids in west central Minnesota is a microcosm of the change the state is going through 
as a whole. One person who watched it all happen tells how the city rose to the challenge and embraced change.