Taking the Helm:
How rural Minnesota's next generation sees the future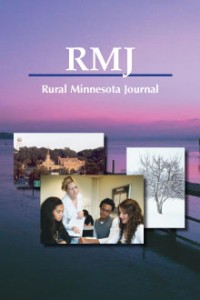 The Center for Rural Policy and Development is pleased to announce the release of the latest issue of the award-winning 
Rural Minnesota Journal, "Youth in Rural Minnesota." In this issue,  we hear from authors from around the state who
work with young people or are young people themselves. They discuss issues concerning them and their future in our
state, everything from why the "brain drain" may be overrated to encouraging entrepreneurship to what schools should
consider in creating our future leaders.
Click the links below to download for free the entire issue or individual articles. To order a hard copy, click here.
Or, check out past issues of the Rural Minnesota Journal.
Available now.
RMJ: Volume 6, 2011 (complete issue)
Title, Table of Contents, Acknowledgments
Editor's note
Marnie Werner, RMJ Editor and Research Manager
Center for Rural Policy & Development
The Glass Half Full: A New View of Rural Minnesota
Ben Winchester, University of Minnesota Extension, Center for Community Vitality, Morris; Art Nash, University of Minnesota Crookston;
& Tobias Spanier, University of Minnesota Extension, Center for Community Vitality, Marshall
Census data indicates that the rural "brain drain" may not be as severe as once believed. Is there a trend of families moving back to their
rural hometowns, and if so, what are they hoping to find when they get there?
Today's Youth, Tomorrow's Rural Health Care Workforce
Laurissa Stigen, Central Minnesota Area Health Education Center, Fergus Falls
As the Baby Boom ages, having an adequate health care workforce into the future is crucial to keeping rural areas livable. Various efforts
are going on to connect kids with the many options in health care careers.
The Seventh Generation: The Future of Minnesota's American Indian Youth
Priscilla Day, University of Minnesota, Duluth, Center for Regional and Tribal Child Welfare Studies
The higher-than-average rate of out-of-home placements among American Indian children is having lasting effects on not only the children, but their families, the community and the tribe.
You Can Be a Leader One Day
Bryan Joyce, Windom Area Schools
Education plays a vital role in a child's future leadership potential. Joyce outlines four components necessary in education to create future leaders.
In Other Words: Sending the Right Rural Message
Neil Linscheid, University of Minnesota Extension, Marshall
What's so great about living in a rural community? That's what rural residents need to figure out if they want to attract people to their town, then get that message out there.
"I Want to Own My Own Business When I Grow Up":  Encouraging Entrepreneurship at a Young Age
Michael Nolan, Small Business Development Center, Minnesota State University, Mankato
Young people are the perfect candidates to be entrepreneurs, and there are a number of reasons they can and should be encouraged.
Reflections of a Young Farmer
Tracy Gaalswyk, rural Nicollet County
A lot has changed in farming over the past few decades, and it will continue to change. Gaalswyk comments on the differences between
farming in the past and farming today, and what needs to be considered for preserving farming into the future.
Shaping the Future of Local Government: How I See It
Jessica Beyer, Blue Earth County Government
As with everything, local government is also changing, adapting to new technology and new ways of doing things. Young people have distinct opportunities ahead of them in smaller communities that they may not have access to in an urban setting.
---
To receive a copy of RMJ by mail, click here to download, print and fill out an RMJ order form and mail or fax it to:
Center for Rural Policy and Development
Attn: RMJ
PO Box 3185
Mankato, MN 56002
Call the Center at (507) 934-7700
The cost is $3 per copy to cover postage and handling (for larger orders, we'll calculate actual postage, plus a small handling fee). Or you can pick them up for free at our office.
---
---
Read some of the praise for the Rural Minnesota Journal:
"It's a must read for rural Minnesota's future decision makers."
Star Tribune Editorial
Jan. 24, 2006
"[T]he new Rural Minnesota Journal is a gold mine of innovative ideas and new thinking. It's worth picking up for anyone who wants to join a serious debate about rural Minnesota's future."
Mankato Free Press Editorial
Jan. 25, 2006
"What makes the journal stand out is its devotion to research as opposed to wishful thinking."
Tom Dennis, Grand Forks Herald
Jan. 29, 2006
"[F]or those who wish to become leaders of the region or those whose policy decisions in St. Paul affect our futures, it's a necessary read and a valuable tool."
Marshall Independent Editorial
Jan. 26, 2006
"A publication featuring rural policy issues is overdue. We hope the discussion generated by the Rural Minnesota Journal will eventually lead to policy innovations that will serve to help us in Greater Minnesota overcome our challenges."
International Falls Daily Journal Editorial
Jan. 31, 2006
---
Would you like to automatically receive all the Center's future publications, including RMJ? Just become a supporting member of the Center. To learn more, click here.