If population growth slows and sputters as predicted and immigration policy continues to tighten, Minnesota employers will find themselves competing with not just each other but the rest of the nation for workers from other countries.
By Ryan Allen, Humphrey School of Public Affairs, University of Minnesota
Like much of the United States, the rate of population growth in Minnesota will likely slow in the future. According to population projections from the Minnesota State Demographer's Office, the population of Minnesota will grow by about 14% between 2015 and 2045. In comparison, over the same period, the population of the U.S. will grow by about 21%.
In addition to the relatively slow population growth anticipated for the state overall, the likely distribution of this growth will vary substantially across Minnesota. In general, counties in and around metropolitan areas will experience robust population growth rates, while more isolated rural counties will only grow slowly, if at all. Northeastern Minnesota is projected to experience negative population growth over this period, while the counties around the Twin Cities and Rochester are expected to experience substantial population growth.
If recent migration trends continue in Minnesota, the importance of native-born residents for population growth will diminish over time while the importance of immigrants will increase. Between 2002 and 2016, Minnesota experienced a negative net migration of native-born residents: more residents left our state than moved here from other states. On the other hand, Minnesota has received a substantial in-flow of international migrants for at least the past several decades. Without the arrival of immigrants to Minnesota, the state would have experienced consistent negative net migration since 2001.
Keeping an eye on migration trends is important, because the rate of natural population change (births minus deaths) is set to plummet in the coming decades. The Minnesota State Demographer projects that the rate of natural population change in the state will decline from about +25,000 people per year in 2018 to –5,000 people per year around 2045.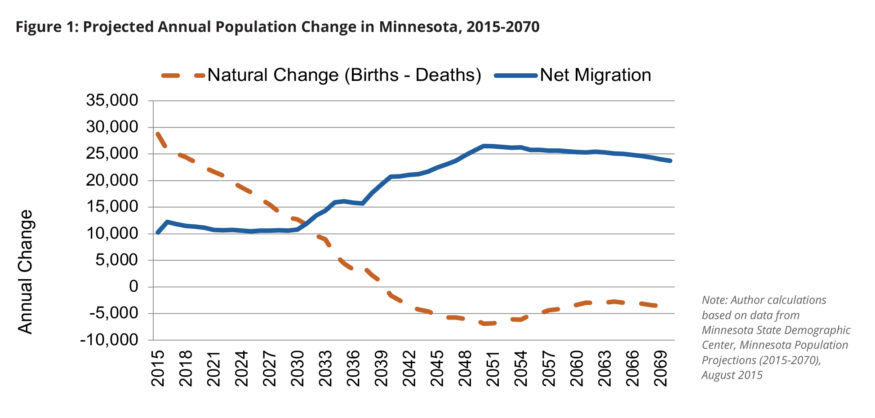 Together, these trends suggest that Minnesota will become increasingly dependent upon the arrival of immigrants to the state to contribute to the modest population growth we anticipate in the future. For those areas of the state projected to experience slow or negative population growth, successfully attracting immigrants in the years to come may be one of the few strategies that can mitigate the economic hardships, such as tepid economic growth and stagnant tax revenue, that often accompany slow population growth.
The importance of immigrants to Minnesota is not new for the state. About one-third of the state's population was foreign born during the latter half of the 19th century. By 1900, drawn by the prospect of cheap land from the 1862 Homestead Act, almost 30% of the population in rural parts of Minnesota was born abroad. Today, the demographic profile of Minnesota tells a different story. Only 8% of Minnesota's population is foreign born, and immigrants are concentrated in and around the metropolitan areas of the state, as well as some micropolitan areas that host large-scale animal processing firms. In future decades, immigrants are likely to continue to settle disproportionately in the southern portion of the state as they gravitate to existing immigrant communities and economic opportunities.
The importance of immigrants to future population growth in Minnesota also means that immigrants will continue to have an outsized presence in the state's workforce. Today, immigrants represent about 10% of Minnesota's workforce, concentrating in industries reliant on either low- or high-skilled jobs, including health care and social assistance; manufacturing; accommodation and food services; professional, scientific and technical services; and retail trade. Immigrants also work disproportionately in construction and agriculture. The anticipated flow of immigrants coming to the state in the decades to come ensures that immigrants will continue to be important.
The difference in age distribution between native born and immigrant-residents, however, is also important. About 60% of native-born Minnesota residents were ages 18-64 in 2015; in comparison, about 80% of immigrants fell into this age range. Not surprisingly then, immigrants had a higher rate of labor force participation compared to native-born residents that year, and there is no reason to believe that either of these trends will change in the future.
For Minnesota and many other states in the U.S., admitting more immigrants to the country in the future could help to relieve some of the concerns about slowing population and labor force growth. Instead, however, it seems more likely in the coming years that the number of immigrants admitted to the U.S. will decrease rather than increase. As of early 2018, Congress had not passed any legislation that fundamentally altered the basic tenets of U.S. immigration policy that have been in place since 1965. The legislative proposals Congress did consider at the beginning of 2018 would have restricted immigration, in some cases by about half the rate of immigration experienced in the U.S. in recent years. The Trump Administration has implemented policy changes that increased immigration enforcement actions dramatically and have severely curtailed the admission of refugees, a flow of immigrants that has been particularly important for Minnesota.
With the prospects for increasing the flow of immigrants to the U.S. looking dim right now, states in the future will very likely be competing for foreign-born residents from an either steady or shrinking flow of immigrants being admitted to the U.S. To compete with other states that boast larger immigrant populations and more robust infrastructure to support immigrant adaptation, Minnesota will need to embrace an intentional approach to attracting and retaining immigrant residents. Part of this strategy must involve focusing on ingredients essential to quality of life in Minnesota, including the creation of high-quality, affordable housing; schools that offer transformative educational experiences for all students regardless of race or class; safe neighborhoods; and employment opportunities with clear paths for professional growth.
Equally important, a recruitment strategy must also involve the creation of a welcoming climate for immigrants. Fostering a welcoming climate necessarily means supporting non-profit organizations that have the cultural understanding needed to assist immigrants as they adjust to life in Minnesota. It also means hiring state, county and municipal government employees who increasingly resemble the people who call this state home.
Finally, nurturing a welcoming environment for immigrants means redoubling efforts to ensure that institutions that act as the backbone of communities are open and accessible to all. Only then will long-term and new residents of Minnesota have an opportunity to come together to solve common problems and reinvigorate our state's commitment to providing opportunities to all residents.
Ryan Allen is associate professor of community and economic development at the Humphrey School of Public Affairs and Minnesota Extension at the University of Minnesota.