There are few policy issues more important in Minnesota than K-12 education. The executive director and board president of the Minnesota Rural Education Association review the issues of funding, modernization, the teacher shortage and equity and how policy makers can make an impact on rural schools.
By Todd Holthaus & Fred Nolan, Minnesota Rural Education Association
Dear Governor Walz & Lt. Governor Flanagan:
Congratulations on the ringing endorsement from the voters of Minnesota for your One Minnesota vision! Minnesota Rural Education Association (MREA), representing 229 member school districts and 30 cooperatives educating nearly 240,000 students daily, welcomes your leadership.
We're especially interested in 21st Century Education for Every Child, one aspect of One Minnesota where you reference solutions addressing barriers and gaps preventing children in Minnesota from growing up and competing in the global economy. We applaud your initiative and recommend you also consider the workable, effective, and efficient approaches endorsed by our members.
One Minnesota Vision: Funding a 21st century education for every child
You are correct that "Minnesota lawmakers need to have an honest conversation about what it costs to make sure every child has the education…" and to "stop playing with inflation." Minnesota's public school funding per student has not kept up with inflation since 2003 (see chart). It is now underfunded nearly $600 per pupil, totaling $525 million annually.
Minnesota ranked 17th nationally in per-pupil funding in 2015 and our teacher median salary was $1,600 below the 2016 national median.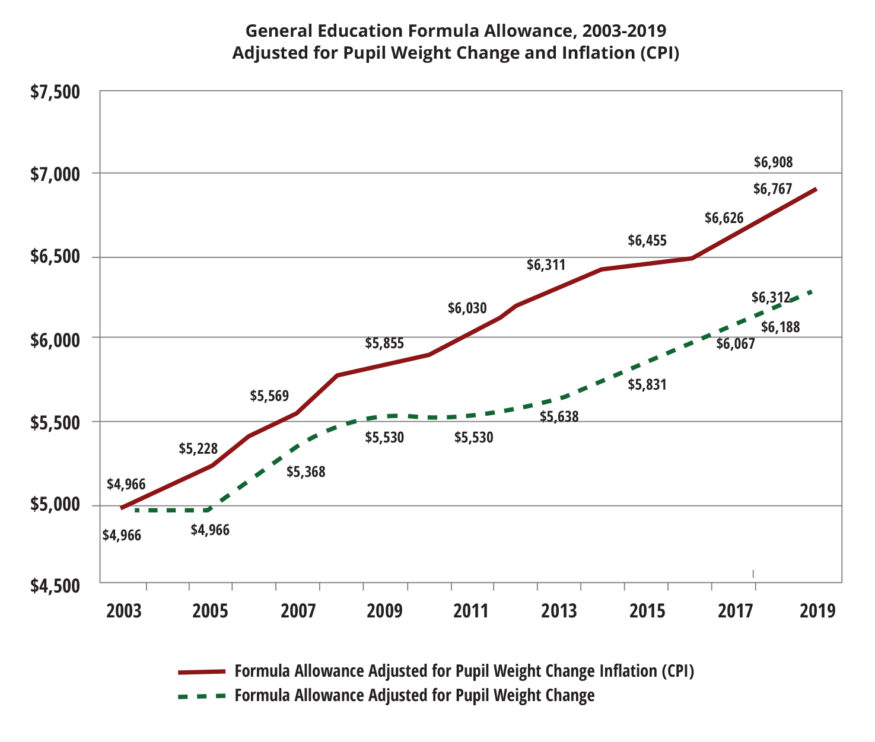 The chart's flat spots show the years when the state provided no formula increase and the formula fell behind inflation. While increases in other years generally matched inflation, funding still never caught up to close the overall inflation gap.
These flat spots are especially troublesome for rural school districts, who are more dependent on the basic formula than metro districts, which have greater access to local operating referendum revenue and specialized state funding streams such as QComp and Integration revenue.
MREA recommends: Since the legislature promised to fund educational services with the formula, we recommend predictable, forecasted annual increases in the General Formula allowance of 3% or more to address current inflationary pressures and to begin closing the inflation gap. Even with this level of predictable funding, 3% increases per year will require 12 years to return the formula to its 2003 buying power when the state made the promise to fully fund the formula.
Forecasted increases would provide predictable budgeting for school districts and prevent misleading teacher layoff notices every two years when districts face possible zero-funding increases. These notices greatly damage individual teachers' financial security and harm the image of professional education as a career. The Commissioner of Minnesota Management & Budget can meter payments to schools as necessary to fund this annual, forecasted formula increase.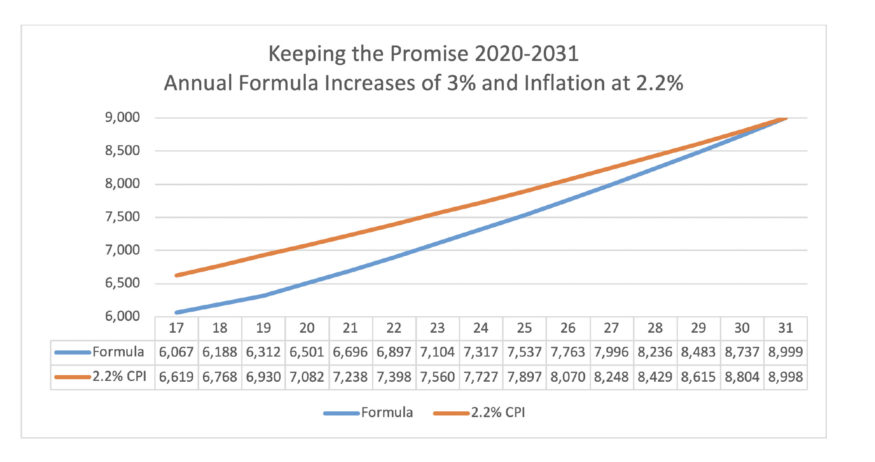 One Minnesota Vision: School innovation and modernization
You correctly highlight the need to "dramatically expand access to career and technical education." Minnesota faces a well-documented skilled-worker shortage, and Minnesota Academic Standards currently hold back high schools from providing the education and training needed to effectively prepare students for their future jobs. Today's system operates on a one-size-fits-all approach for students regardless of their post-graduation plans.
MREA recommends:
Re-examining the high school course and standards requirements and adjusting them to align with state workforce needs and provide flexibility and more options for students in their required Personal Learning Plans.
Reinvesting in vocational and technical education programs and skills (i.e., welding, manufacturing processes, robotics, accounting). This includes expanding ADM funding like targeted services up to 0.25 pupil unit reimbursement for programming outside the traditional student day and supporting districts' collaboration with local employers in program design.
You correctly point to the need to "attract and retain the best-and-brightest in our classrooms" by "reducing the burden of college debt that makes teaching economically impossible for many of our young people."
Minnesota schools face a critical shortage of teachers, especially teachers of color, in nearly all subjects. The shortage is more pervasive in Greater Minnesota than the seven-county metro area.
About 1,400 teachers retire annually in Minnesota. Minnesota's colleges of education graduated 517 fewer fully credentialed teacher candidates in 2016 than in 2012—a 20% decline. The gap widens as one-quarter of Minnesota's new teachers leave the profession within three years.
Mounting college debt has also been a deterrent. Now 70% of graduates leave college with debt. Those receiving a bachelor's degree from a state university had an average of nearly $25,500 in debt in 2015 while earning a starting salary of only $37,650.
Schools across Minnesota have been working to decrease the teacher shortage by using Tier 1 and 2 licensed teachers, who filled 21% of 2018-19 rural teacher openings, according to surveyed rural administrators. These administrators also reported extreme difficulty in recruiting teachers for industrial arts, FACS, special education, math and sciences, and English as a second language. 
MREA recommends:
Securing adequate, ongoing funding for grants, student teaching stipends, and loan forgiveness to attract and retain Promising Teachers in rural Minnesota.
Expanding Grow Your Own Teachers pilot programs for rural school districts and education cooperatives.
One Minnesota Vision: Equity and excellence in education
You are correct that "Minnesota students need to understand the history of the land on which they live, which means teaching an inclusive and empowering American Indian Minnesota history." Minnesota students need to understand indigenous world views and values to create a respectful, balanced Minnesota culture and future.
Minnesota currently has nearly 70 required academic standards with American Indian content and knowledge across all grade levels in four subjects: Arts, English Language Arts, Science, and Social Studies. This number is expected to increase as Minnesota statutes require that all standards' writing efforts include consideration of contributions of American Indians to the subject area.
Most Minnesota teachers do not have a deep understanding of the importance of this learning nor access to materials and lessons to teach these standards. The Minnesota Tribal Nations Education Committee (TNEC) and MREA's American Indian Advisory Committee independently identified a critical need to develop and distribute accurate Minnesota Tribal history and cultural curriculum and lessons. 
The Minnesota Department of Education is prohibited by law from developing or promoting specific curriculum and is tasked instead with developing standards. The scope of this project, however, is beyond the resources of any one school district or tribe to accomplish and yet too small a market to attract a commercial publisher. 
MREA recommends a proposal for Minnesota American Indian Curriculum Alignment, Development and Dissemination, developed by a partnership with TNEC and MREA. This proposal has been endorsed through a formal resolution of the Minnesota Indian Affairs Council (MIAC). 
The first step in the proposal is to align previously written curriculum with Minnesota standards and make them available to Minnesota school districts and teachers. The proposal envisions ongoing curriculum and teacher development to develop a sustainable support system to connect Minnesota students to the contributions of Minnesota American Indian Tribes and Communities. 
Your support and state financial assistance will greatly enable educators across Minnesota to teach generations of students an inclusive and empowering American Indian Minnesota history and culture, as they become Minnesota's citizenry as adults.
MREA looks forward to working with you and the 2019 legislature to craft solutions like these creating One Minnesota in which all our citizens, young and old, rural and urban, can thrive. 
Dr. Fred Nolan, after serving 36 years as a teacher, principal and superintendent in Greater Minnesota, is in his eighth year as executive director of the Minnesota Rural Education Association, while Todd Holthaus is MREA board president. MREA serves 231 school districts, 30 cooperatives and 57 associate members educating 245,000 students daily.