By Whitney Oachs, Research Associate
This week the Minnesota Pollution Control Agency (PCA) announced its 2022 draft list of new proposed impaired waters. Among the 305 new waterways added to that list is the St. Croix River, which is included due to having concerning levels of PFOS, a "forever chemical" used in manufacturing Scotchgard, firefighting foam, and nonstick coating for pans. 
In the mid-20th century, manufacturing firms in Oakdale, Woodbury and Cottage Grove were using these same PFOS now found in the St. Croix. After years of soaking into the groundwater and contaminating other nearby waterways, the chemicals have now migrated to the St. Croix, a nationally protected scenic riverway. PCA officials have found PFOS in fish across the entirety of the river, as well as in 15 other new lakes and streams, causing concern about health and human safety.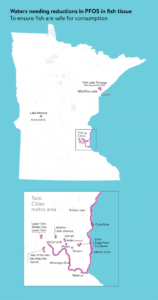 Image Source: Minnesota Pollution Control Agency (PCA) 
This finding is concerning to me, personally, as I grew up in and along the St. Croix River in Northwestern Wisconsin. The river, which sits on the border between Wisconsin and Minnesota, has been a nationally protected scenic riverway since 1968, and was one of the first rivers to be put under federal protection. 
Historically, the St. Croix has long been one of the cleanest waterways in the Midwest, but the PCA has noted several concerning trends in its conservation over the years. However, unlike other forms of impairments and contaminants, PFOs resist most treatment technologies, leading the EPA to begin investigating different forms of treatment and detection. 
Beyond the St. Croix and PFOS, the MN PCA is adding 305 bodies of water and 417 new impairments to its 2022 draft list. This brings the total to 2,904 water bodies with 6,168 impairments across the state. 
Common impairments include: 
At present the MN PCA is seeking public comment on this list and, after making any necessary changes, will submit the final list to the Environmental Protection Agency (EPA) for review.