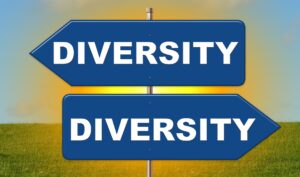 By Whitney Oachs, Research intern
If you listened to our latest episode on our The Center of Everywhere podcast, you know that my classmates and I at the Hubert H. Humphrey School of Public Affairs completed a capstone thesis this spring on local government outreach among rural immigrant and refugee communities. In the study, we identified four rural communities that have reported a significant increase in immigrant and refugee in-migration in the past 20 years, resulting in myriad changes to the workforce, community, and culture of each city:
City of Austin (Mower County)
City of Pelican Rapids (Otter Tail County)
City of Willmar (Kandiyohi County)
City of Worthington (Nobles County)
Although rural Minnesota is often stereotyped as a white, agrarian monolith, rural Minnesota's demography and economy have undergone significant changes since the turn of the century. One such change is the rise in immigrant and refugee populations in response to rural workforce needs, creating "pockets of diversity" across the countryside. Notably, all four of the communities featured in our study are home to large meatpacking plants, which serve as both the largest economic driver and employer of immigrants and refugees in each city.
USDA Rural-Urban Commuting Areas in Minnesota.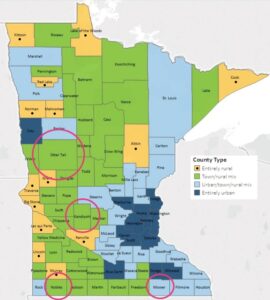 Figure 1: USDA's Rural-Urban Commuting Areas (RUCA) help define how rural or urban each county is. Data: Minnesota State Demographic Center
As defined by the U.S. Department of Agriculture's Rural-Urban Commuting Area (RUCA) codes, each county featured in this study is largely rural, with population densities below 55 people per square mile. For comparison, the population densities for Hennepin County and the state of Minnesota are approximately 2,082 and 64.9 people per square mile, respectively (Figure 1).
According to the Center's 2020 State of Rural Report, non-white and Latino populations typically make up a larger percentage of the population in southern Minnesota in comparison to northern counties. And in general, the counties with the highest BIPOC (Black, Indigenous, People Of Color) population percentages have reported population gains over the past decade, while rural communities with low levels of racial diversity have tended to be in population decline.
Population estimates show a measurable increase in foreign-born residents as a share of total city population. Three of the four cities featured in this study doubled their foreign-born population as a percentage of their total population over the past 20 years (Figure 2). Pelican Rapids, which reported the first wave of refugee resettlement in the 1990s, reported slightly slower growth from 2000 to 2019, although foreign-born residents make up a higher percentage of the overall population. By 2019, the BIPOC population exceeded the white, non-Latino population in both Worthington and Pelican Rapids (Table 1).

Table 1: White, Non-Latino residents are the population minority in two of the four cities looked at in the report. Data: U.S. Census Bureau, 2000 & 2010 Decennial Census & 2019 ACS 5-year estimates.
Whether it is refugees resettling in Pelican Rapids, immigrants working at the Hormel plant in Austin, or families of color looking for a lower cost of living, growing racial and ethnic diversity in Greater Minnesota has been and will continue to be the norm. As such, it is important to investigate how local governments across rural Minnesota have welcomed growing immigrant and refugee populations and to identify how and whether government actions are meeting the needs of these communities.
Look for the full research report with findings from this study later this month.