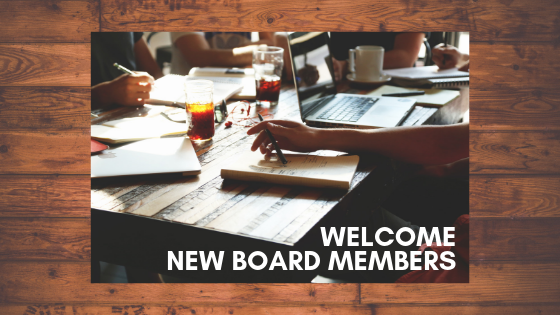 by Julie Tesch, President
At the heart of the Center for Rural Policy & Development are our staff and board of directors.  While we the staff do the research, our board members are also vital to the success of this organization. CRPD's board is made up of thirteen members appointed by the Governor, one each appointed by House and Senate leadership, and five at-large positions voted on by the board members themselves. The board works closely with us to help guide the direction of the Center, to set research priorities, and to help make the Center a presence in the rural policy community. 
When looking for potential board members, we are looking for diversity of place, thought, ethnicity and occupation, and most of all, a passion for rural Minnesota. This summer, we're happy to welcome three new board members and two returning members.
Two familiar faces, Eunice Biel of Harmony and Tim Velde of Granite Falls, have been reappointed to our board by the Governor.  Both Eunice & Tim bring great perspectives to our board and the issues facing rural Minnesota, especially in agriculture.  Eunice and Tim are both active farmers and understand the opportunities and struggles of rural life.
We are also excited to welcome three new board members appointed by the Governor.
Martha Castañon: Martha calls herself a minnenortena and Minnesota homegrown. Martha's parents settled in Moorehead in 1958, where she was born and raised. While she was growing up, the family worked as farmworkers in Minnesota,Texas and Wisconsin. It was from this time in her life that Martha developed a passion for helping farmworkers and immigrants. She worked for 35 years with Migrant Legal Services and is now employed as an Accredited Representative with the Immigrant Law Center of Minnesota at their Moorhead office. This passion has also led her to serve on the board of directors for Community Health Services, Inc. She is also currently an election judge for Clay County and a notary public. Her past civics interests have been serving two terms on the Committee of Equality & Justice of the Minnesota Supreme Court and on the board of directors of Mujeres Unidas in Moorhead. In 2006 she was named Latina of the Year for Mujeres Unidas, and in 2012 she was inducted into the Labor Hall of Fame along with 30 other advocates from across the United States who have worked with migrant farmworkers. In 2006, Martha lost her daughter to suicide and has since been involved in raising awareness for suicide prevention.
Christina Bowstring: Christina works as a family support specialist for the Leech Lake Band of Ojibwe's Indian Child Welfare Department. Prior to that, she worked in the band's planning department, focusing on a variety of grants projects. Outside of work, Christina serves on the Chippewa National Forest Resource Advisory Committee and the Grand Rapids Chamber of Commerce's forestry affairs committee. Christina is a graduate of Blandin Foundation's Reservation Leadership Program and TakeAction Minnesota's leadership training program. Christina earned her associate's degree in business from Itasca Community College, and she is the proud mother of four children. 
Jennifer Peterson: Jennifer comes to us from Proctor, where she is the Manager of Regulatory Affairs for Minnesota Power. Jennifer's military career as an Intelligence Officer in the Air National Guard and her civilian position at Minnesota Power have both provided an opportunity to drive change in multiple fields of public policy, including foreign policy and energy policy. This experience has given her the ability to translate analytical and leadership skills gained through military service into productive change in a dynamic corporate environment.  She holds a B.A. in International Studies, an M.A. in International Relations and Conflict Resolution, and has graduated from both the Leadership Duluth and Leadership Minnesota programs. She is currently a major in the Air National Guard and also serves as a commissioner on Proctor's Public Utilities Commission in northern Minnesota.
We look forward to working with our new board members as we continue to learn and research issues vital to rural Minnesota.