October 2020
By Whitney Oachs, Research Intern
When CRPD updated its website in 2010, many of our old research reports were not included on the new site. That has now changed. With over twenty years of research available on our website, we are more ready than ever to answer your questions regarding Greater Minnesota.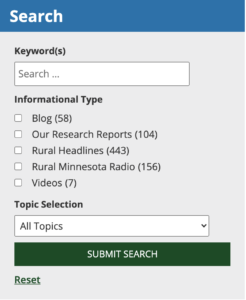 In addition to this past research, CRPD is now providing information on rural Minnesota across multiple formats. When our organization began, our research was provided via formal reports. Over the years, the ways in which information is consumed has changed. We have expanded formats in which our research is offered in order to keep up with the times. Now important information on rural issues can be gained through videos, podcasts, blog posts, and short one-page summaries of our research.
To make it easier to find this information, we have updated our site with a new search tool that makes our work easily searchable by format type as well as by topic. To navigate the site, first decide whether you would like to view blog posts, research reports, rural headlines, rural Minnesota radio, and videos, or all of the above, as demonstrated to the right.
You can then refine your search using either the keyword search or topic selection dropdown menu. There you can find all of our information relating to agriculture, arts, childcare, conservation and environment, demography, the economy and economic development, education, healthcare, infrastructure, and technology.
We also have a section with popular tags allowing you to narrow down your search. This new functionality is all in an effort to increase the accessibility of our research. Whether you are a curious citizen, legislator, student, or researcher, our site is now easier to use than ever before with all of our published work available on the site.
Some reports worth featuring include, "Estimating the impact of the Latino workforce in South Central Minnesota," and our "2005 Minnesota Internet Study," which takes a look at rural broadband in the years before its widespread adoption. Also, don't forget to subscribe to our Center of Everywhere podcast, available now on our website, Apple podcast, and Spotify.