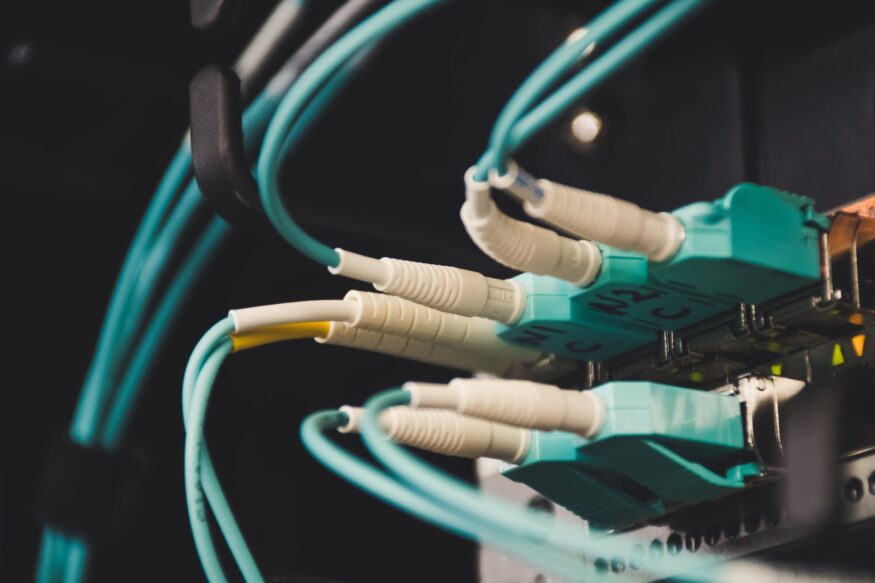 By Kelly Asche & Marnie Werner
Not only is having a connection to the internet important on a normal day, but during times like this, when everyone is suddenly expected to work and learn from home, the traffic suddenly goes up many fold, taxing even the best of systems. That's why it's important to keep in mind that the ability to work, learn, and communicate from our homes is not equal across the state.
Heavy traffic putting heavy pressure on broadband infrastructure means that speeds will go down, which will be a problem for everyone. Think of a traffic jam on the interstate or trying too hard to pump water through a hose when there isn't enough water or the hose is too small. The speed—or more correctly the capacity—of an internet connection is crucial for folks working from home or taking classes when they're expected to participate in video chats, which require transmitting massive amounts of data, or transmit large quantities of information quickly.
In rural areas, having a subscription to an internet service doesn't equal a quality connection. Counties outside of the seven-county metro have a noticeably lower percentage of households with access to broadband or, in some cases, any internet at all. Figure 1 provides the average percentage of households by internet connection type by county group. The more rural a county is, the more likely it is to have a significantly lower percentage of households with an internet subscription. In fact, Minnesota's most rural counties can have a percentage of households with an internet subscription that is 10 to 20 percentage points less than entirely urban areas.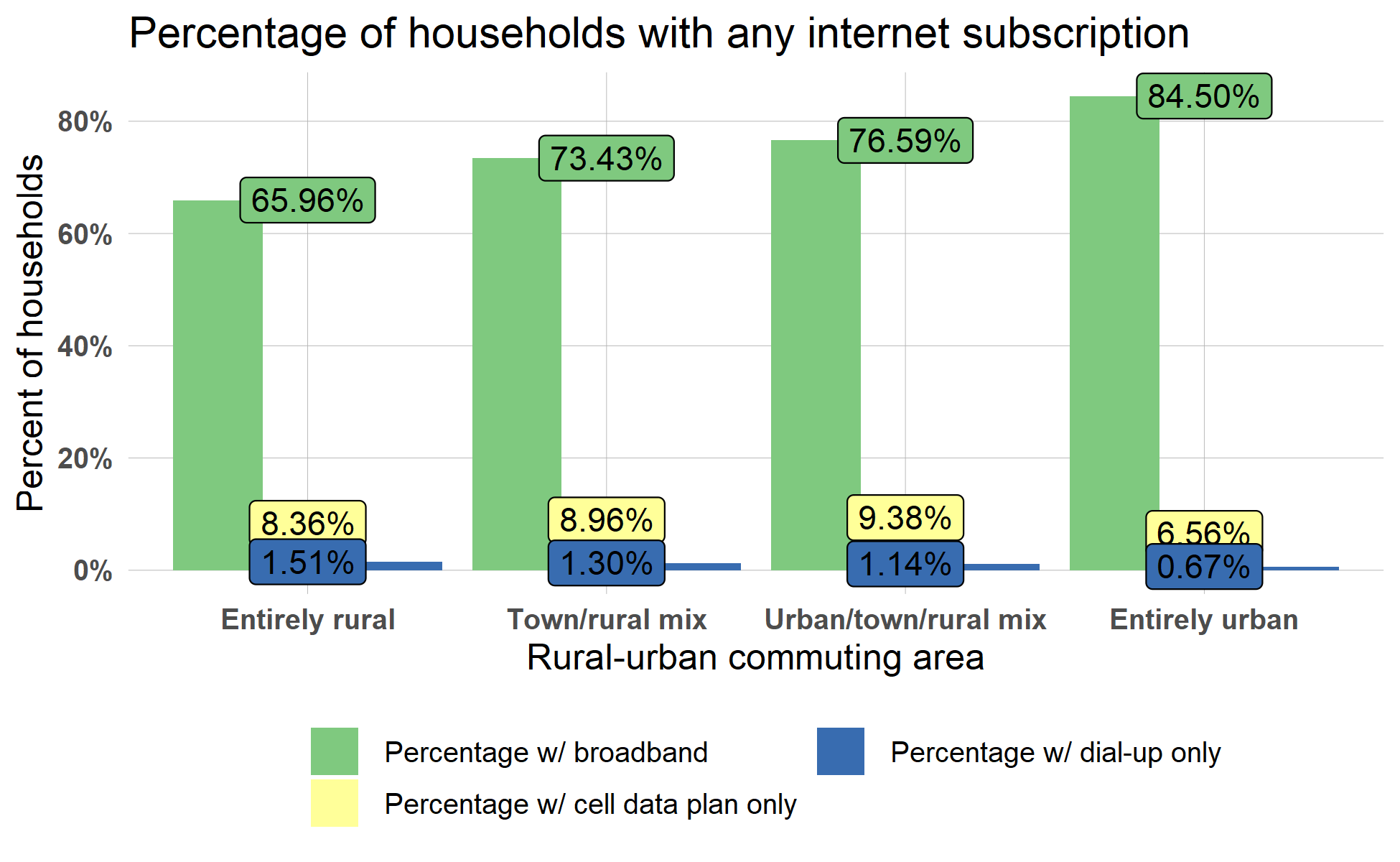 Looking at the data by each county, Northern Minnesota in particular has challenges in getting households subscribed to any type of internet. Subscription rates can also vary quite a bit within a county. While at the county level Blue Earth County appears to have a high subscription rate, that number does not reflect the number of households that have high-speed internet and how many of those homes are outside the population center of Mankato.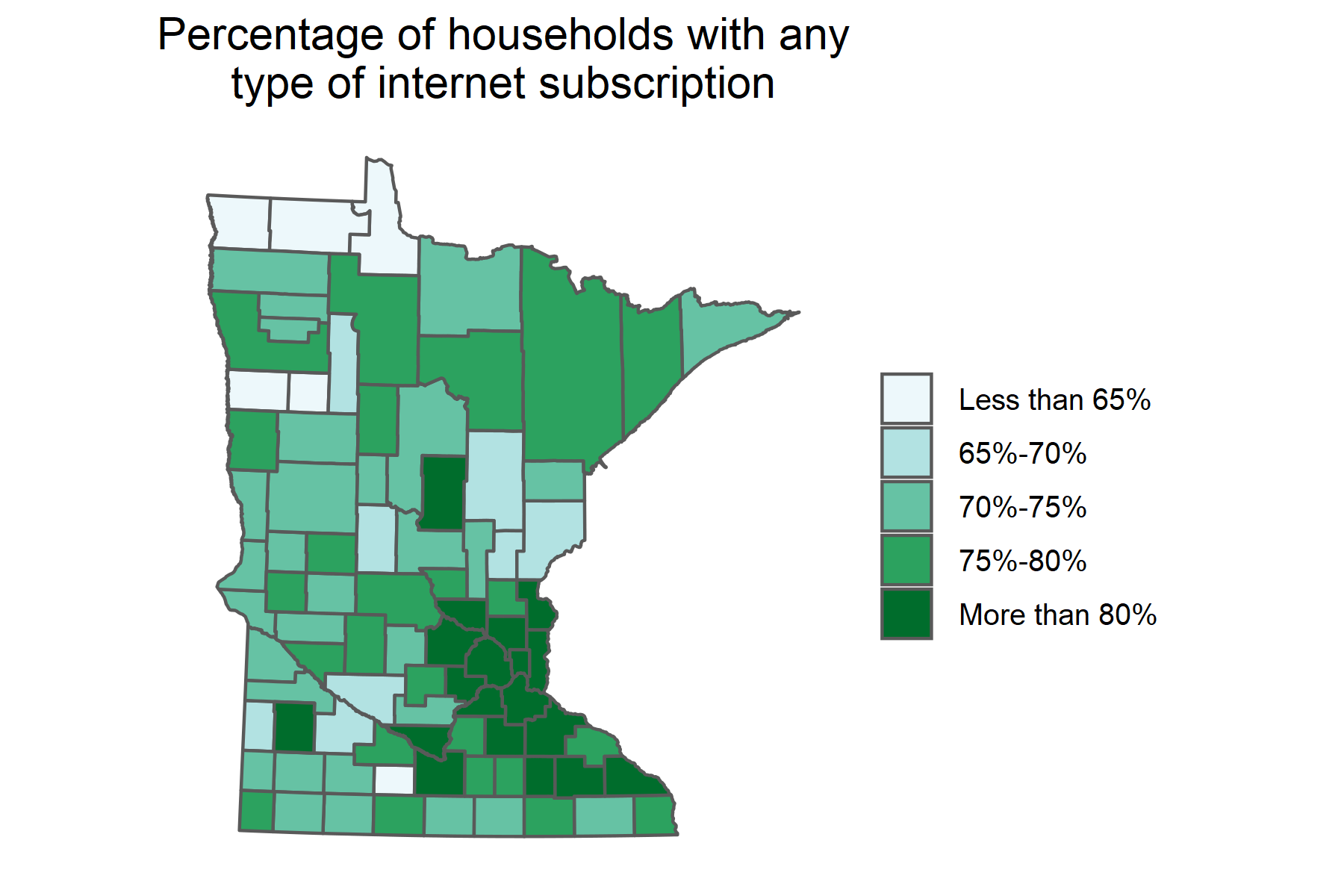 Fortunately, in the last week, both the government and internet providers have stepped up help.
The Federal Communications Commission created the Keep America Connected Pledge. Providers who take this pledge promise "to not terminate internet service service to residential or small business customers because of failure to pay for reasons connected to the crisis. It also calls on providers to waive late fees and open any wifi hotspots to all users."
From CRPD board member and MN Cable Communications Association executive director Anna Boroff says: "MCCA members are working hard to ensure no one loses service because of the coronavirus." All MCCA members have signed the Keep Americans Connected pledge from the FCC, which means these companies pledge for the next 60 days to not cut off service to any residential or small business customers because of inability to pay due to the disruptions caused by the pandemic; waive any late fees that any residential or small business customers incur because of economic circumstances related to the pandemic; and open its Wi-Fi hotspots to anyone who needs them. Additionally, many companies are offering free broadband and WiFi access to households with students who don't currently have access and increasing those speeds. Please check with your local cable company for details.
From AT&T: All AT&T consumer home internet wireline customers as well as fixed wireless Internet customers have access to unlimited internet data.  AT&T has also expanded eligibility for their low-income Access from AT&T program for households participating in the National School Lunch Program and Head Start, and are offering new customers through this program two months of free service.
MVTV, a Internet coop in southwestern Minnesota, is unable to offer free Internet service, but they won't be assessing late fees on past due accounts or shutting off service for non-payment in March or April. They are offering a discounted program for people who qualify for the nationwide PCs for People program for low-income families and individuals.
From the LaCrosse Tribune, AcenTek, serving southeast Minnesota, is offering free broadband and wifi internet access through June 1 to students and teachers learning remotely in their service area who do not have internet service with the company. Installation fees will also be waived for the new customers living within its service area. The company serves 22 communities in southeast Minnesota and northeast Iowa.
According to Garden Valley Technologies' Facebook Page, "GVT is offering special assistance to those families with students K-12 who currently do not have Internet service at their residence." A 50/50 Mbps Internet speed connection will be made available free of charge, to qualified customers in GVT's service area through the end of the school year or when school goes back to its regular schedule, whichever comes first. Garden Valley serves at least portions of the following counties: Beltrami, Clearwater, Hubbard, Lake of the Woods, Mahnomen, Marshall, Norman, Pennington, Polk and Red Lake.
Arvig has announced that they are offering an Education Assistance Program for families with a student in the K-12 system or for college students to receive free internet service. The program is available to families who live in the Arvig service area and currently do not have any internet service at their residence; provides any internet speed available free-of-charge, including wi-fi service if needed; ensures service will remain free until the 2019/2020 school year concludes; will prioritize installations for low-income customers who qualify; and is available where Arvig can deliver 5 Mbps of speed or higher
From RiverTowns.net: Hiawatha Broadband, which serves the Winona area, is offering two months of free broadband service to eligible low-income households and for free community Wi-Fi hotspots.
And lastly, the FCC is reminding schools and libraries that they are permitted to allow the general public to use E-Rate-supported Wi-Fi networks while they are on the school's campus or library property. This is important, because during normal times, schools and libraries that get funding to provide broadband wifi in the building are not allowed to let people use it outside the building. In other words, people have to be using the school or library services to access the wifi. This directive allows the school or library to bump up the wifi so that, for example, people sitting in cars in the library parking lot can use the wifi. Some places do this already, but this makes it official. Check with your local library or school to find out if they are doing anything along these lines.
Thanks to Ann Treacy and the Blandin on Broadband blog for collecting all these examples of government and community working together to solve problems!